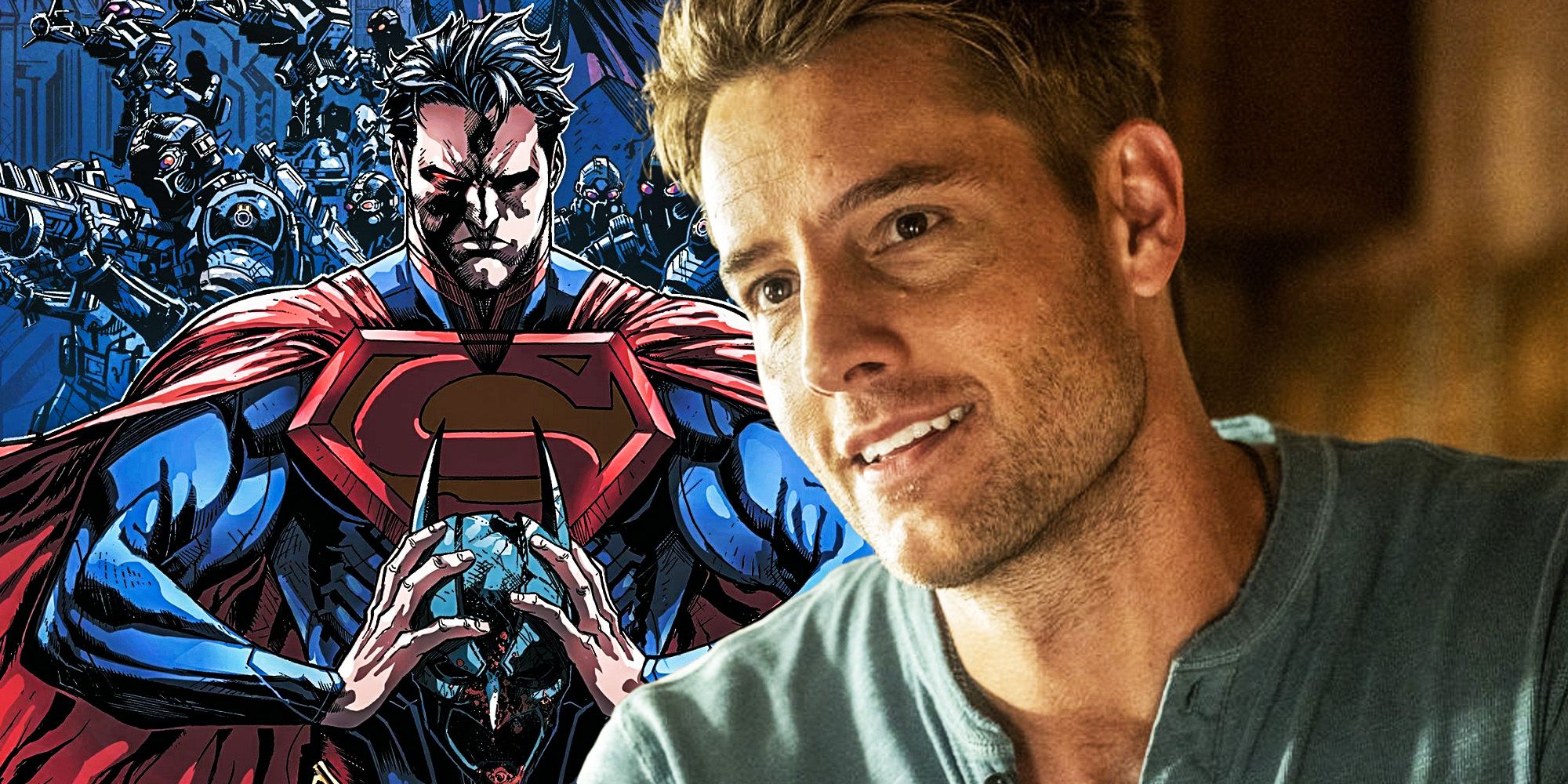 DC's Injustice Animated Movie Cast Guide: Every Confirmed Character
[ad_1]
DC's Injustice is happening as an animated movie, and Warner Bros. Animation has revealed its exciting lineup of actors and what characters they are playing. Things have taken an exciting turn since Justice League Dark: Apokolips War when it comes to Warner Bros.'s DC animated films. After wrapping up their New 52-inspired universe, the studio started from scratch with a new shared franchise that began with Superman: Man of Tomorrow. So far, they have tackled original storylines for some of their films while also adapting iconic comic book arcs like Batman: The Long Halloween.
However, Warner Bros. is also continuing to produce DC animated films outside the interconnected universe, like Batman: Soul of the Dragon. The studio is bringing the video game franchise Injustice to life as their next standalone DC animated movie. After its release in June 2013, Injustice: Gods Among Us experienced fast success that prompted the studio to greenlight Injustice 2, which came out in May 2017. Injustice tells the story about a Superman from another Earth who turns on humanity after Joker gets Lois Lane killed. After Superman murders Joker, he evolves into a tyrant and implements a new world order to decrease criminal activity. With the help of another Earth's Justice League, Injustice sees unlikely alliances come to life as they try to stop the twisted Superman and his regime.
RELATED: Black Adam Could Be The DCEU's Injustice Superman
While Injustice is expected to be released sometime this fall, Warner Bros. has finally revealed the enormous voice cast for the animated movie, which features multiple heroes and villains. Like most DC animated films, some actors from past projects are part of Injustice, while the lineup also consists of a few newcomers. Here is every confirmed character for the Injustice animated movie and who is playing who.
Justin Hartley As Superman
Injustice's Clark Kent/Superman will be played by Justin Hartley, who is no stranger to the DC Universe. Before Stephen Amell played Oliver Queen on Arrow for eight years, Hartley was the first actor to portray Green Arrow in live-action on Smallville. After being on a show about a young Man of Steel, Hartley is getting to step into the role of Superman several years later. Outside of his Smallville fame, Hartley's most significant credits include his role as Kevin Pearson on NBC's critically acclaimed series, This Is Us. Injustice is also the third DC project Hartley has been involved with as he played Arthur Curry in The CW's Aquaman pilot. While Aquaman wasn't picked up to series, the pilot became available on iTunes and on Smallville DVD collections.
Anson Mount As Batman
Bruce Wayne/Batman plays a crucial role in Injustice, and the next actor getting to voice the Dark Knight is Anson Mount. While it is Mount's first time being cast for a DC property, this marks his second comic book role. Despite being short-lived, Mount portrayed Black Bolt in the Marvel ABC series Inhumans, which followed the Royal Family and the Inhumans society. Even though Inhumans got canceled after one season, Mount went on to join the Star Trek universe as Captain Pike. Not only did Mount play Pike in Star Trek: Discovery and Star Trek: Short Treks, but he got his own spinoff series, Star Trek: Strange New Worlds. Mount is also known for starring in Hell on Wheels, which ran for five seasons on AMC.
Janet Varney As Wonder Woman
Janet Varney will portray Diana Prince/Wonder Woman, and while Injustice is a big addition to her filmography, this isn't the first heroine she gets to voice. One of Varney's most notable roles was Korra in The Legend of Korra, the sequel series to Avatar: The Last Airbender. While The Legend of Korra is her biggest animated gig to date, Varney has also done voice work on Sanjay and Craig, Bravest Warriors, and The Loud House. Outside animation, Varney has starred in several TV shows, including Burning Love, You're the Worst, Stan Against Evil, The Game, and Entourage.
RELATED: Theory: Superman & Lois' Luthor Sets Up Crime Syndicate (Not Injustice)
Laura Bailey As Lois Lane & Rama Kushna
In many animated projects, certain actors voice several roles, which is the case for Laura Bailey in Injustice. Bailey voices Lois, but she will also voice Rama Kushna, the entity that watches over Nanda Parbat, which is where the League of Assassins typically operates. Injustice is just the latest addition to Bailey's voice work as she has done other DC animated projects like Batman Unlimited, JLA Adventures: Trapped in Time, Justice League vs Teen Titans, and Constantine: City of Demons. Bailey is also known for having voiced Black Widow in several Marvel animated shows and films.
Zach Callison As Damian Wayne & Jimmy Olsen
Zach Callison is part of Injustice, and like Bailey, he is pulling double duty, both on the Batman and Superman front. Not only is Callison voicing Batman's son Damian, but he will also be voicing the Man of Steel's best pal, Jimmy Olsen. Interestingly enough, Callison's Injustice gig is coming right after having voiced young Bruce in Batman: The Long Halloween – Part 2. While Callison has worked on multiple LEGO DC animated projects, the actor is best known for voicing the titular role in the Steven Universe franchise. Callison has starred in live-action TV shows like The Goldbergs, Sofia the First, and Just Add Magic outside of his voice work.
Brian T. Delaney As Green Lantern
One of the most iconic Green Lanterns is Hal Jordan, who is part of the Injustice line-up with Brian T. Delaney voicing the Emerald Knight. Delaney has also done a lot of voice work in several video game franchises, including Call of Duty, Destiny 2, Halo, Kung Fu Panda, and Disney Infinity. Green Lantern will be Delaney's second big DC character he gets to play as he voiced Jonathan Crane/Scarecrow in Batman Unlimited and Batman Unlimited: Monster Mayhem. Outside of voice roles, Delaney has appeared on shows like Crossing Jordan, All My Children, and The Young and the Restless.
Reid Scott As Green Arrow & Victor Zsasz
Reid Scott is boarding Injustice as both the Justice League member Green Arrow and the villainous Victor Zsasz. While Injustice is Scott's first DC movie, the Veep actor is familiar with the comic book realm as he plays Dr. Dan Lewis in Venom and Venom: Let There Be Carnage. Within the world of animation, Scott starred in Motorcity, Turbo FAST, and the movie Nerdland.
RELATED: Why The Arrowverse's Next Crossover Event Should Be Injustice
Brandon Micheal Hall As Cyborg
While Cyborg has only been played a few times in live-action, Victor Stone has been in several animated DC projects, and Injustice will be one of them. Brandon Michael Hall will portray Victor/Cyborg, which will be the actor's first voice acting role. Hall's filmography includes main roles on God Friended Me, The Mayor, and Search Party.
Yuri Lowenthal As The Flash, Shazam & Mirror Master
The one cast member who is voicing three DC characters in Injustice is Yuri Lowenthal, who will portray both The Flash, Shazam, and Mirror Master. Lowenthal has an extensive voice acting background that includes several DC movies such as Teen Titans: Trouble in Tokyo, Batman: The Dark Knight Returns, Justice League: Gods and Monsters, and Batman: Gotham by Gaslight. There are also a number of DC animated shows that Lowenthal has been involved with, from Legion of Super-Heroes, Young Justice, to Batman. The Brave and the Bold and Beware the Batman. He also's had a number of Marvel roles, including voicing Peter Parker/Spider-Man in Insomniac's Spider-Man video game.
Derek Phillips As Aquaman & Nightwing
Like most of his Injustice cast members, Derek Phillips will be voicing two DC characters in the film as he is voicing Arthur Curry/Aquaman and Dick Grayson/Nightwing. While Injustice is Phillips' first DC animated film, the actor is best known for his role as Billy Riggins on Friday Night Lights. His other credits include Longmire, Private Practice, and Agents of S.H.I.E.L.D.
Kevin Pollak As Joker & Jonathan Kent
The villain that causes the events of Injustice to happen is Joker, who Kevin Pollak is voicing in the film. Pollak will also voice Superman's adoptive father, Jonathan Kent. The actor is currently one of the leads on The Marvelous Mrs. Maisel where he plays Moishe Maisel. Pollak's body of work also includes recurring gigs on Shark, Mom, Angel from Hell, and Billions.
RELATED: How Joker Returns In Injustice 2 (Despite Being Dead)
Gillian Jacobs As Harley Quinn
Gillian Jacobs is joining the DC Universe through Injustice as she becomes the latest actress to voice Harley Quinn. Outside of Injustice, Jacobs has done voice work previously, including Robot Chicken, Justice League Action, Rick and Morty, and Invincible. Jacobs is primarily known for her role as Britta Perry on Community, which ran for six seasons. Her credits also include starring as Mickey Dobbs in Love and the Fear Street movies on Netflix.
Injustice's Other Confirmed DC Characters
Edwin Hodge As Mr. Terrific & Killer Croc – Not only is Hodge playing Michael Holt/Mr. Terrific, but he is also voicing one of Batman's deadliest villains, Killer Croc. One of Hodge's most prominent roles is Dante Bishop in The Purge movie franchise. Hodge's big TV gigs include Jack & Bobby, Six, and he recently starred in the film, The Tomorrow War.
Oliver Hudson As Plastic Man – Injustice becomes Hudson's first voice role as he will be playing Patrick O'Brian/Plastic Man. Hudson's filmography consists of lead roles on Rules of Engagement, Scream Queens, and Splitting Up Together.
Anika Noni Rose As Catwoman – For the role of Selina Kyle/Catwoman, Rose will be portraying the iconic anti-heroine in Injustice. The actress is primarily known for voicing Princess Tiana in Disney's Academy Award-nominated film, The Princess and the Frog. Rose has starred in the movies The Killing of Kenneth Chamberlain, Body Cam, and the TV shows The Good Wife, Bates Motel, and Power.
Faran Tahir As Ra's al Ghul – The leader of the League of Assassins will be part of Injustice, with Tahir voicing Ra's al Ghul. Tahir is best known for playing the villainous Raza in Iron Man, along with roles in Elysium, Star Trek, and Escape Plan.
Fred Tatasciore As Captain Atom – After playing Bane and Solomon Grundy in both Injustice games, Tatasciore is joining the animated adaptation as Captain Atom. He also plays Grundy in both parts of Batman: The Long Halloween. Tatasciore's voice credits are an endless list as he has worked on projects like Star Wars: The Clone Wars, Avatar: The Last Airbender, Robot Chicken, and many more.
Andrew Morgado As Mirror Master Soldier – Morgado is joining the Injustice cast as a new character named Mirror Master Soldier, seemingly related to Lowenthal's character. While Morgado has mostly done video games, he has also done voice work for shows like Doug Unplugs, Legends of Tomorrow, and The Casagrandes.
NEXT: Every Upcoming & In Development DC Film
Andrew Garfield Hated The Social Network After Watching It
About The Author
[ad_2]
Source link